In today's digital age, having a strong online presence is crucial for the success of any business. Among the many tools available, Google My Business stands out as a powerful platform that helps businesses reach local customers and improve their visibility in Google search results. In this article, we will explore what Google My Business is, how it can benefit your business, and provide a step-by-step guide on creating and verifying your profile. Let's dive in!
What is Google My Business?
Google My Business (GMB) is a free and user-friendly platform offered by Google, designed to help businesses manage their online presence across various Google services, including Google Search and Google Maps. It provides an opportunity for businesses to showcase their products, services, and relevant information to potential customers.
The Benefits of Google My Business
Utilizing Google My Business offers a multitude of benefits for businesses, both big and small. Here are some key advantages:
Enhanced Online Visibility: Creating a GMB profile ensures your business appears in local search results, increasing visibility to potential customers in your area.
Business Information Display: GMB allows you to provide accurate and up-to-date information about your business, such as address, phone number, website, opening hours, and more.
Customer Engagement: GMB enables customers to leave reviews and ratings, and it allows you to respond to them, fostering engagement and building trust with your audience.
Showcase Products and Services: You can highlight your offerings through photos, videos, and descriptions, giving potential customers a preview of what you have to offer.
Insights and Analytics: GMB provides valuable insights about how customers find and interact with your business, allowing you to make data-driven decisions and improve your marketing strategies.
Creating Your Google My Business Profile
Now that we understand the benefits, let's walk through the process of creating and verifying your Google My Business profile:
Step 1: Sign in or Create a Google Account
To get started, sign in to your existing Google Account or create a new one. Ensure that you use an account associated with your business.
Step 2: Access Google My Business
Once signed in, visit the Google My Business website (https://www.google.com/business/) and click on "Manage Now" or "Start Now."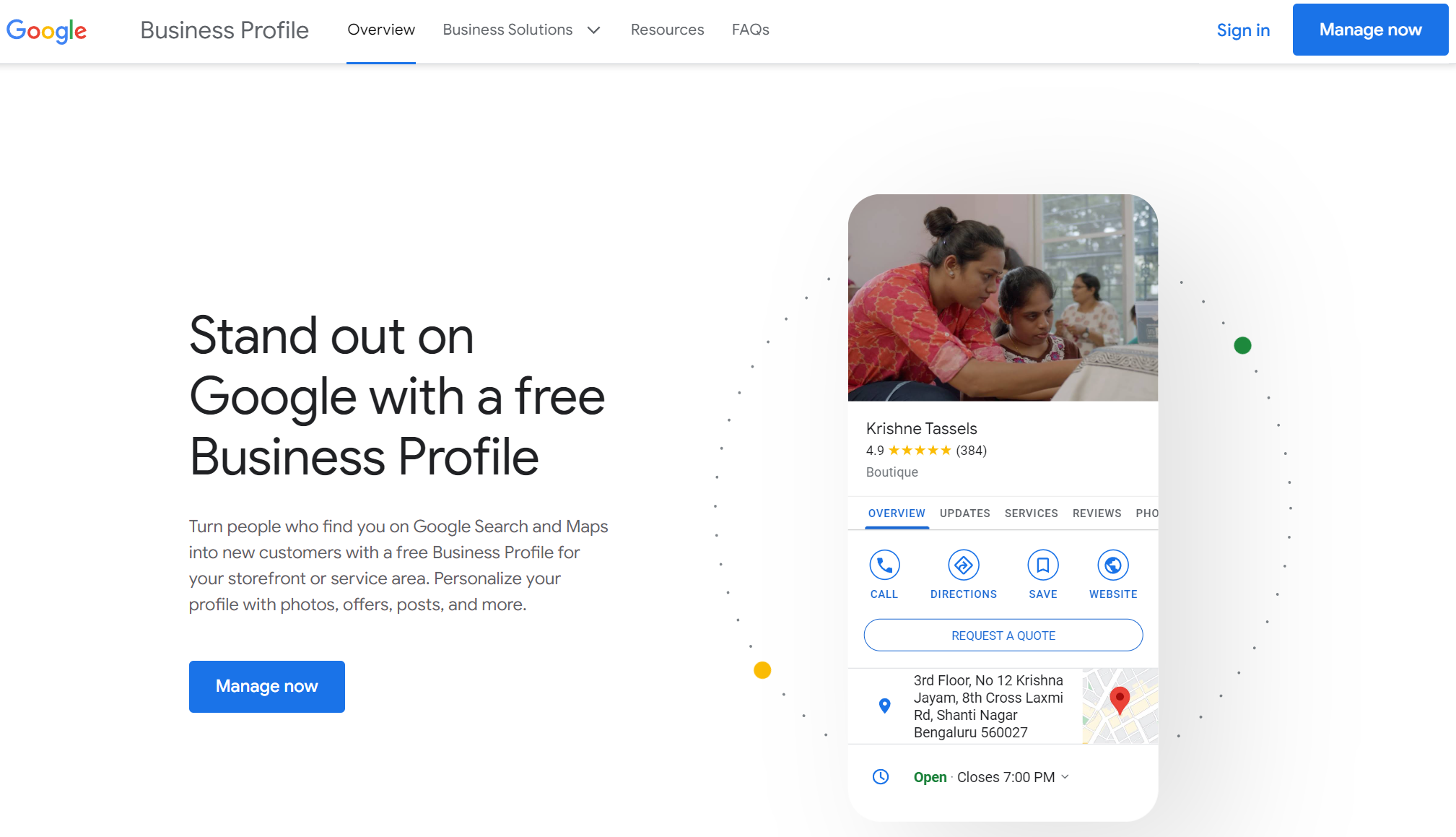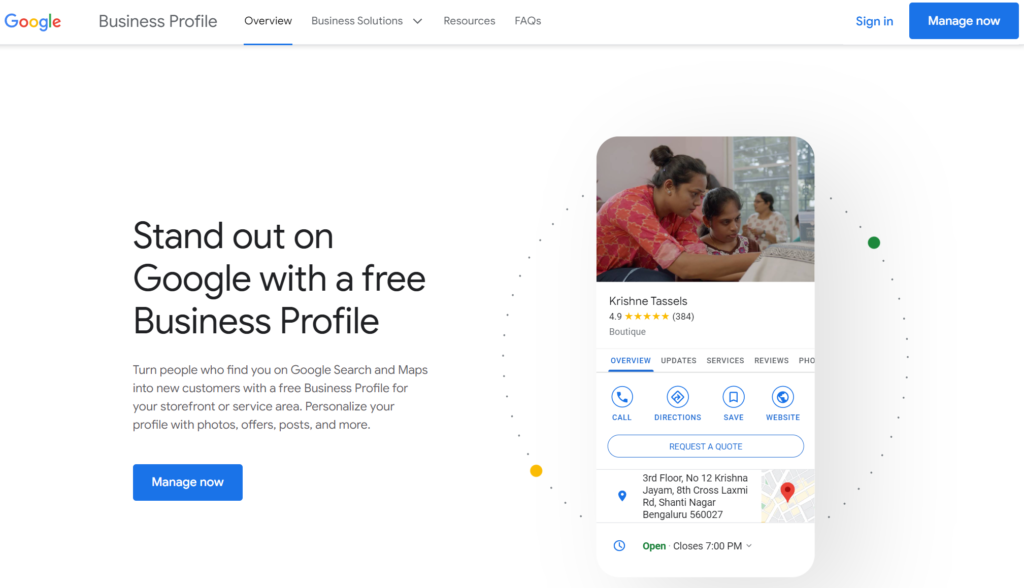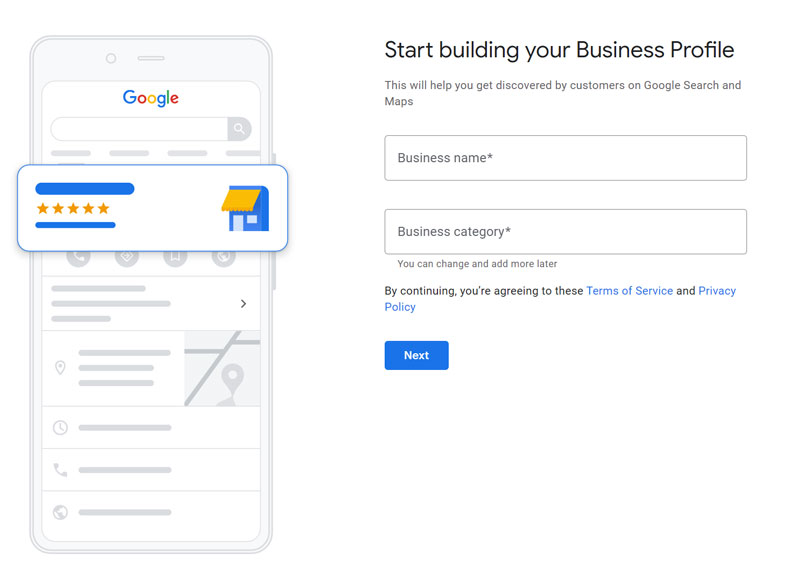 Step 3: Add Your Business
Enter your business name in the prompted field. If your business already appears in the suggestions, select it. Otherwise, click on "Add your business" and fill in the necessary details.
Step 4: Specify Your Business Category
Choose the most relevant category that best represents your business. Be as specific as possible, as this helps Google understand and match your business with relevant search queries.
Step 5: Enter Your Business Location
Provide the physical address of your business. If you operate from multiple locations, you can add them later.
Step 6: Service Area Settings
Specify your service area if you serve customers outside your physical location. This is particularly useful for businesses that offer delivery services or operate in multiple locations.
Step 7: Contact Information and Website
Include your business phone number, website URL, and any additional contact information to make it easy for customers to reach you.
Step 8: Complete Your Profile
Take the time to fill out every section of your profile thoroughly. This includes adding a business description, uploading high-quality photos and videos, and including any additional information that showcases your products or services.
Verifying Your Google My Business Profile
After creating your profile, the next step is to verify it. Verification is crucial to establish your business's authenticity. Google offers multiple verification methods, including:
Postcard Verification: Google will send a postcard containing a verification code to the physical address provided during profile creation. Enter the code in your GMB dashboard to complete the process.
Phone Verification: Some businesses may have the option to verify by phone. Google will call the provided phone number and provide a verification code that needs to be entered in the GMB dashboard.
Email Verification: In certain cases, email verification might be available. Google will send a verification code to the email address associated with your business, and you will need to enter it in your GMB dashboard.
Also Read: Affiliate Marketing: Strategies that Drive Massive Profits!
Best Practices for Google My Business Profiles
While creating your Google My Business profile, keep these best practices in mind:
Use Accurate Information: Ensure that all information, such as business hours, phone number, and address, is accurate and up to date.
High-Quality Images: Add high-resolution images that represent your business and its offerings. This helps create a positive first impression on potential customers.
Monitor and Respond to Reviews: Regularly check and respond to customer reviews, both positive and negative, to show that you value customer feedback.
Utilize Google Posts: Take advantage of Google Posts to share updates, promotions, events, and other relevant content directly on your profile.
Stay Active and Engage: Regularly update your profile, add new photos, and engage with customers' questions and comments. This shows that your business is active and attentive.
What Not to Do
While creating your Google My Business profile, it's essential to avoid certain pitfalls:
Keyword Stuffing: Avoid stuffing your business name or description with excessive keywords. Instead, focus on providing relevant and accurate information.
Multiple Profiles for the Same Location: Creating multiple profiles for the same location can confuse customers and negatively impact your search rankings. Stick to a single profile per physical location.
Ignoring Customer Reviews: Ignoring or not responding to customer reviews can damage your reputation. Take the time to respond and address any concerns or feedback promptly.
Neglecting Updates: Keep your profile up to date with accurate business information, including operating hours, holiday closures, and other changes.
Conclusion
Google My Business is a powerful tool that can significantly boost your business's online visibility and engagement with customers. By following the steps outlined in this guide and adhering to best practices, you can create an effective GMB profile that showcases your business and helps drive success in the digital marketplace. Unlock the potential of Google My Business and watch your business flourish in the local landscape.